The Voices of HOPE
Our Self-Advocacy Group meets every 4 to 6 weeks. Peer leaders, their supports, and recently elected group officials meet twice a month to plan the meeting agenda.
We have had many successful Voices of HOPE meetings that include topics/lessons like:
Knowing your rights and responsibilities
How to deal with Bullying
Right way/wrong way to handle difficult situations
Personal Strengths and Weaknesses
Creating bucket lists and Dream catchers
Future goals for the Voices of HOPE group include fundraising to help support the group financially, engage in public speaking and completing a full Project STIR training for those interested.
Project STIR is a training program created by the OSDA to create change that empowers people with disabilities and their families to direct their lives. We are proud to have five graduates from the Project STIR training.
The Voices of HOPE Self-Advocacy Group is led by our Project STIR Graduates and elected group officers.
Our current officers are:
Gary Cody – President
Shannon Allen – Vice President
Jessica Clapp – Secretary
LaNae Thompson – Treasurer
Jenny Hartford – Planning Committee Secretary
Interested in being a group officer?
We will begin the campaign process in September 2016 for the November 2016 election of new officers.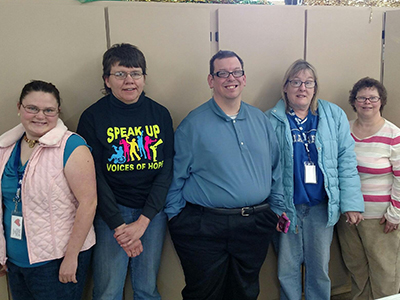 ---
---
Helpful Resources
Steps Towards Independence and Responsibility
Where Childhood Meets Adulthood