We are committed to helping every person we serve, in order to see them reach their goals.
Our Supported Employment Services will find competitive employment in a community setting for individuals with developmental disabilities. We believe it's important for our clients to work alongside people without disabilities, so they can become a part of our community.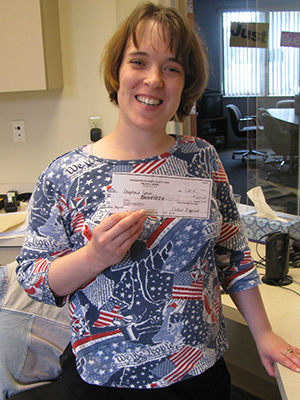 We'll work alongside individuals with our Supported Employment services which provides job development, matching, coaching, and shadowing, along with vocational training and a job club. Our service and Support Administration will help clients develop a plan that focuses on reaching their goals, in order to see them succeed in a job that they'll enjoy.
SES assists individuals in:
Individual job development
Job matching
Job coaching
On-going follow-up services
Vocational training
CPR/First Aid
Money skills
Driving training
Alongside with community employment, we offer summer youth services for qualifying individuals who are at least 16 years of age. Transportation services may be available.
Employment Opportunities
We are always happy to connect individuals to job opportunities. We work both locally with our employers and with nationwide movements to help job seekers find the employment that matches their strengths.
Tools to help you find employment
Employment First is a national movement to assist job seekers with developmental disabilities (DD) to work in competitive, integrated employment. In March 2012, Governor John Kasich signed an Executive Order making community employment a priority for people with developmental disabilities. Employers recognize that employees with DD are reliable and perform equal to or better than non-disabled employees. Visit Ohio Employment First to learn more.
Opportunities for Ohioans with Disabilities (OOD) is the State of Ohio agency that partners with Ohioans with disabilities to achieve quality employment and independence, and makes determinations on Social Security disability. To learn more, visit Opportunities for Ohioan with Disabilities website.
Additionally, Ohio Means Jobs assists in helping individuals with a disability find employment. Visit Ohio Means Accessibility to search for a job, or learn more about your rights and benefits.
Interested in becoming an employer?
We are so thankful for all of our current employers. These employers help our clients reach their goals and thrive in our community. If you are looking to hire, we would love to add you to our list of employers. Please contact Melinda Camp for more information.
We are so thankful to our employers. Our job sites include:
Chief Supermarkets
Big G's
McDonald's
Keller Packaging
Walmart
Clubhouse Pizza – Holgate
Big Boy
Bob Evans
HOPE Services
Northwest State Community College
AMRI
NOWAC
Holiday Inn Express
Meijer
Triple Diamond Plastics
Lowe's
Avina's