Early Intervention Serves Children Birth to Age 3
Early Intervention Services are provided through a coordinated network of providers, including the Ohio Help Me Grow System and employees of the Health Department, and are driven by the needs of the family, which are documented through an Individualized Family Service Plan (IFSP). Specialists will meet the needs of infants and toddlers who show evidence of delays in developmental milestones.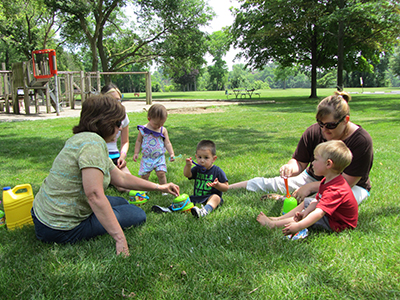 Early intervention focuses on teaching both parents and caregivers the methods they need to know in order to enhance their child's development. The child will then be able to practice skills throughout their day and the week. This allows the child to continue learning outside of a therapist's office, and practice skills during routines that the parents or caregivers have established. This means the child can practice in real life, rather than in a hospital or medical center.
Services are provided in natural settings such as:
Library
Child's Home
Local Park
Daycare
As part of the early intervention services we will partner with parents to use the child's and family's interests as the foundation, focusing on supporting the child to learn and grow, and enhancing the child's participation in their family and community. By working together we can meet the parent's goal for the child's development.
Services a family receives is determined by the team who partners with the family to develop the child's Individualized Family Service Plan and can include:
Hearing and vision screenings
Occupational therapy
Physical therapy
Speech and language therapy
Modifications, adaptations and activities specific to each family and child's needs
Transition assistance
Referral resources
Home visits
And, our specialists will be there to help families find the answers to their tough questions.
Children who qualify for services in Early Intervention and who are determined eligible for an IEP upon their third birthday will be provided assistance during their transition to preschool. Early Intervention and Help Me Grow is a statewide system that provides coordinated services to parents of young children with disabilities.
Play Project
The PLAY Project benefits young children with Autism and their families. This program was developed by Dr. Rick Solomon of Ann Arbor, Michigan. The home consultant will model techniques for parents to engage and interact with their child. The goal of the home consulting program is to acknowledge parents as the expert on their child and assist them to be their child's best play partner.
Click Here to learn more about the PLAY Project